Roof Cleaning Woodbridge
Roof Cleaning Woodbridge VA, satisfaction guaranteed or it's on us!  Call 571 250 9650 or request a 

roof cleaning quote online!
For most people, our homes are our most significant material asset.  And maintaining  our home and its curb appeal is highly desirable.  If you're like many Woodbridge  homeowners you've likely noticed that embarrassing streaks and stains have appeared on numerous roofs in the last few years.    Roofs with a northern exposure or those under heavy shade are typically the first to exhibit those unsightly stains.   Fortunately those roof stains, caused by a hardy for of algae, can be affordably removed by American-ProTech via professional roof cleaning.
It's very important that homeowners realize that pressure washing should never occur on fiberglass shingles, nor should any high pressure apparatus be used on them either.  In short, they instantly cause damage to the roof by dislodging the granules that are attached to the roofing substrate.  This information is directly from the major roofing manufacturers.
The roof cleaning processes  mandated by the likes of GAF-Elk, CertainTeed and Tamko are all pressure-free process, relying on chemistry rather than high pressure.  Our roof cleaning process is just that, pressure-free.  And the results are absolutely amazing: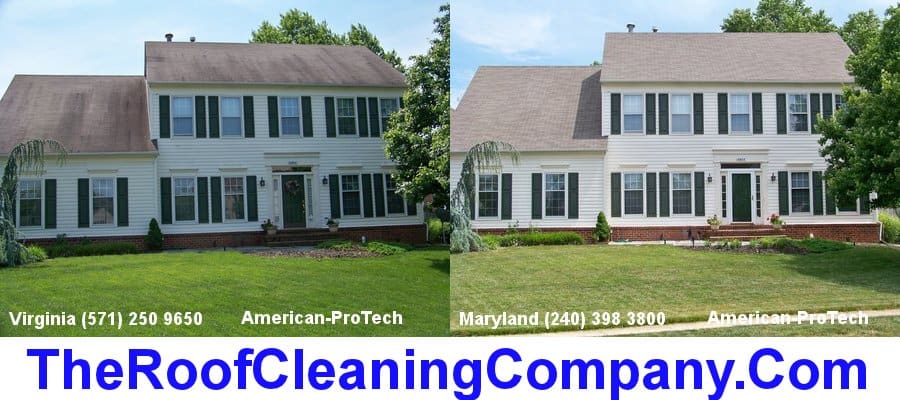 If you're in need of a roof cleaning for your Woodbridge home or business, or if you'd simply like a no-obligation consultation, give us a call today at 571 250 9650.  We pride ourselves on top quality services at extraordinary values.
Professional Staff
Professional Equipment
Professional Results – EVERY time

Zip codes served for  Roof Cleaning Woodbridge include 22191, 22192, 22193, 22194 and 22195
Roof Cleaning Woodbridge Weather Conditions:
[wp_google_weather city="Woodbridge VA" temperature="f" language="en" forecast="1″]