Roof Cleaning Potomac MD 20854 20859
Roof Cleaning Potomac MD;  Call

240 398 3800

today!

Roof Cleaning Potomac Maryland
The affluent town of Potomac Md, nestled along the river of the same namesake, is nationally recognized as a highly desirable community.  Manicured lawns are the norm, and pride of ownership abounds. Yet unfortunately, a nuisance has taken the area by storm in recent years; embarrassing roof stains and streaks.
These stains, typically caused by a blue-green algae (cyanobacteria) certainly detract from a home's curb appeal.   In fact, a large number of roofs in the Potomac Md area are replaced prematurely, solely due to those ugly roof stains. 
At American-ProTech, our specialty is professionally removing roof stains; roof cleaning.  Our roof cleaning process is approved by the shingle manufacturers and relies on science and chemistry to achieve amazing results.  See the before and after picture  below: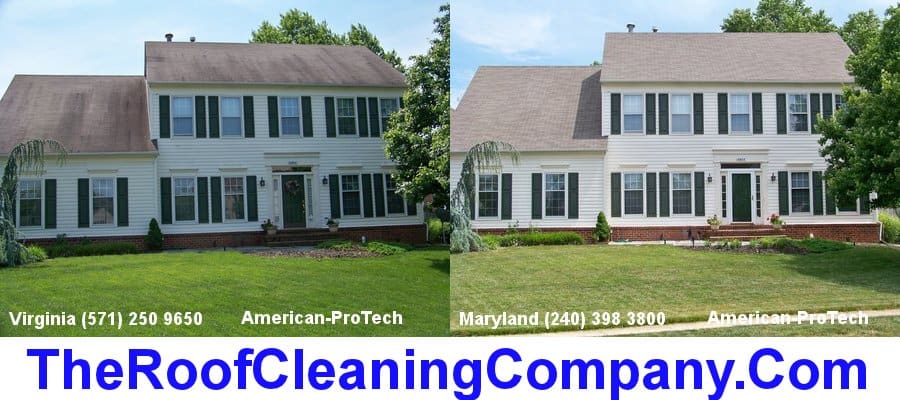 And our services are extremely affordable. Whereas new roofs cost in the thousands of dollars, our roof cleaning service runs in the hundreds  of dollars.     
For many homes, the roof occupies 40% of our field of view from the curb.  40%! That's a lot of surface area to have to put up with those unsightly streaks and stains on your Potomac MD home.  Our professional roof cleaning services will restore the appearance of your home to the way you remember it just a few short years ago.  Our cost-effective roof cleaning solution produces amazing results, and best of all, there's absolutely no risk to you.  If you're not satisfied, then it's on us!    
For a no obligation consultation and roof cleaning quote for your Potomac home or business,  call 240 398 3800 or visit our roof cleaning contact page.
Call

240 398 3800

today!
Professional Staff
Professional Equipment
Professional Results – EVERY time

Zip codes serviced for Roof Cleaning Potomac MD: 20856, 20859
Current weather conditions for Roof Cleaning  Potomac MD:
[wp_google_weather city="Potomac MD" temperature="f" language="en" forecast="1″]