Roof Cleaning Middleburg Va 20117 20118
Roof Cleaning Middleburg Va.  Call 

571 250 9650

 or request a roof cleaning quote online!
Established in 1787, the property that is now Middleburg was purchased for $2.50 an acre.    Named Middleburg due to being located in the middle of Arlington and Winchester, it's long been known as the Nations Horse and Hunt Capital.  Rich with history and having residences ranging from quaint period homes to exquisite estates, Middleburg is a wonderful place to spend a weekend or to call home.
 And should your Middleburg property, old or new, begin to show signs of unsightly roof stains, rest assured that there's an affordable and professional solution offered by American-ProTech, roof cleaning.  Whether slate, asbestos or the far more common asphalt shingles, our virtually no-pressure solution yields incredible results each and every time: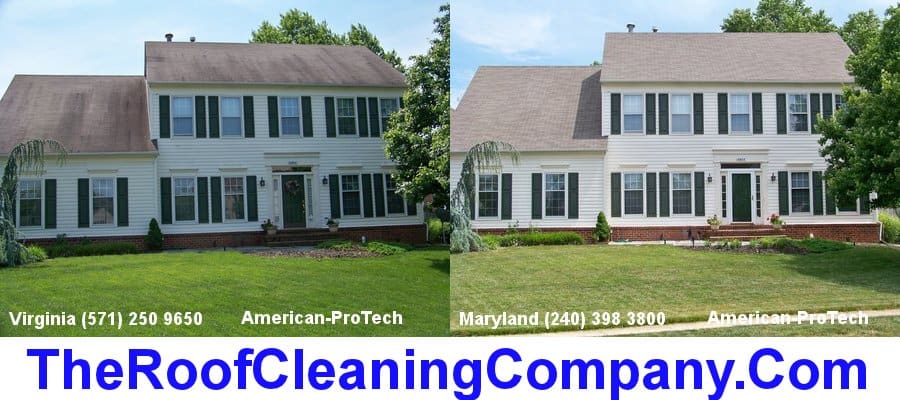 As the region's leading roof cleaning company, American-ProTech specializes in roof stain removal.  Our own 42' hydraulic lift is brought to each and every job which means that we almost never even stet foot on a roof.  Instead, our shingle manufacturer approved solution is applied from the safety of the lift.  No walk on your roof means no wear and tear and no leaks.
 When it comes to your home or business, you deserve professional results.  At American-ProTech, we guarantee your satisfaction like no other.
 Call 571 250 9650 for a no obligation consultation and a roof cleaning quote for your Middleburg home or business.

Zip codes serviced for Roof Cleaning Middleburg VA:  20117 20118
Current weather conditions for Roof Cleaning Middleburg VA:
[wp_google_weather city="Middleburg VA" temperature="f" language="en" forecast="1″]