Roof Cleaning Haymarket
Roof Cleaning Haymarket
The town of Haymarket,  rich in history and charm, traces its beginnings to a trail once used by the Iroquois.  Controlled and tasteful growth has allowed Haymarket to become a highly desirable community while maintaining a 'down home' feel.
Unfortunately an unsightly phenomenon has taken Haymarket and the surrounding region by storm in recent years,  a cyanobacteria which creates embarrassing stains and streaks on some roofs.    This cyanobacteria, a simple blue-green algae, tends to grow predominately on the northern exposures of roofs, or, on roofs that are heavily shaded.
At American-ProTech, our specialty is removing those roof stains with a pressure-free roof cleaning process.  Based out of Gainesville, we've restored the curb appeal of many Haymarket homes with professional roof cleaning.  Recent results of roof cleaning are in the picture below: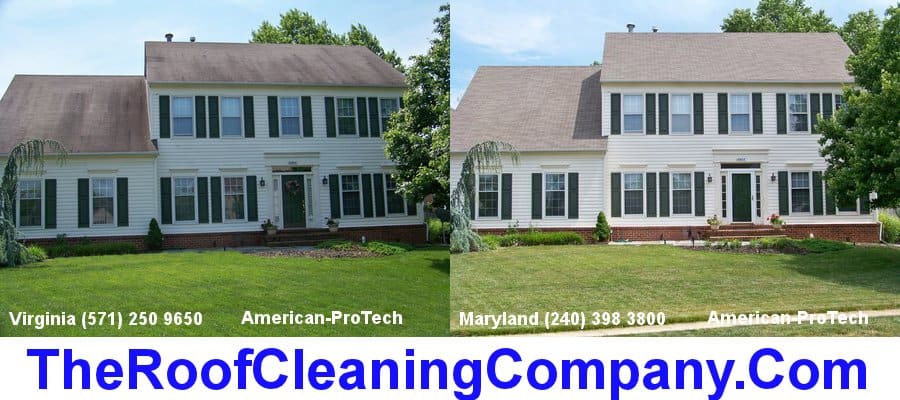 You want your Haymarket home to look it's best.  Perhaps you've been cited for roof stains by your HOA, or perhaps your homeowners insurance company has mandated a cleaning; whatever the reason, when it comes to your home or business, leave it to the experts at American-ProTech, Haymarket's leading roof cleaning company.
Professional Staff
Professional Equipment
Professional Results – EVERY time
Call 571 250 9650 for a no obligation consultation and a quote.  And we promise, there's NEVER any high pressure sales tactics used.

Zip codes served for Roof Cleaning Haymarket: 20168 and 20169
Current weather conditions for Roof Cleaning Haymarket VA
[wp_google_weather city="Haymarket VA" temperature="f" language="en" forecast="1″]