Roof Cleaning Front Royal Va 22630
 Roof Cleaning Front Royal VA, a professional, guaranteed service!  Call 571 250 9650 or request a roof cleaning quote online!
Roof Cleaning Front Royal
Located along the banks of the famed Shenandoah River, and nestled in the foothills of the mountains lies the charming town of Front Royal Va.  With it's small town Virginia atmosphere, friendly residents and numerous outdoor activities, it's a favored destination for many, myself included.  
Over the last few years, an unsightly growth has started to overtake many of the roof tops in Front Royal and the larger mid-Altantic area.  This growth, commonly referred to as a blue green algae (cyanobacteria) now riddles the residential and commercial property landscape.  Fortunately, there is a cost effective method to safely and properly remove those ugly stains from shingles.  At American-ProTech, our primary specialty is roof cleaning.  Our approved process uses virtually no pressure, relying instead on chemistry to yield phenomenal results, each and every time: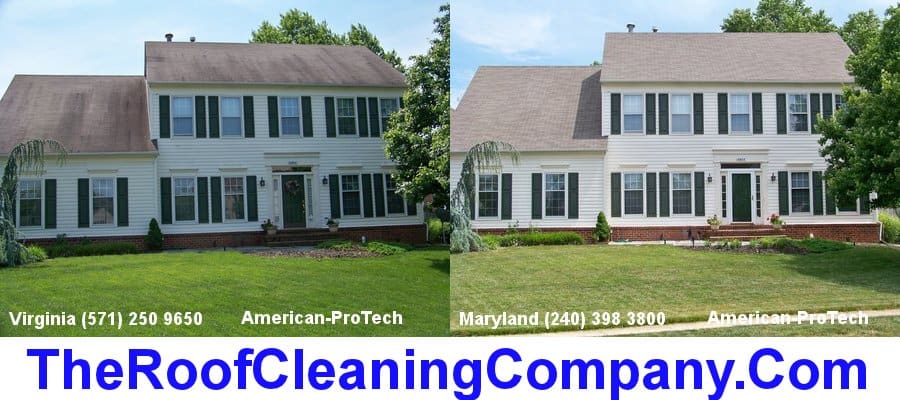 Give American-ProTech a call, and we'll restore the appearance of your Front Royal roof, while prolonging the life of those expensive shingles at the same time.   It's surprisingly affordable and best of all, your satisfaction is guaranteed.
 Call 571 250 9650!

Zip codes serviced for Roof Cleaning Front Royal VA: 22630
Current weather conditions for roof cleaning Front Royal VA:
[wp_google_weather city="Front Royal VA" temperature="f" language="en" forecast="1″]