Roof Cleaning Dunn Loring VA 22027
Roof Cleaning Dunn Loring Va.  Call 

571 250 9650

 or request a roof cleaning quote online!
Looking to restore the curb appeal of your home to the way it was just a few short years ago before those roof stains took over?  Perhaps your like many homeowners in the Dunn Loring area that have received notices from your homeowner's insurance company mandating that roof stains and moss be professionally removed.  Whatever the reason, look no more, as we're the regions leading roof cleaning company, American-ProTech.  
 Our state of the art roof cleaning process is approved by the shingle manufacturers, and the results are dramatic each and every time.  In just a few hours, your Dunn Loring roof can look great again for a small fraction of what a new roof would cost.
 Aside from just asthetics, biological mass on your shingles retains moisture and promotes the growth of additional bio-mass.  The major shingle manufacturers clearly state that this can lead to premature shingle failure.  So while you have your curb appeal restored via safe, no-pressure roof cleaning by American-ProTech, you can rest assured knowing that you're also prolonging the life of your roof.  
 Have a close look at the before and after pictures below.  What an incredible difference!  And the fee for this home was measured in hundreds of dollars.  Only hundreds.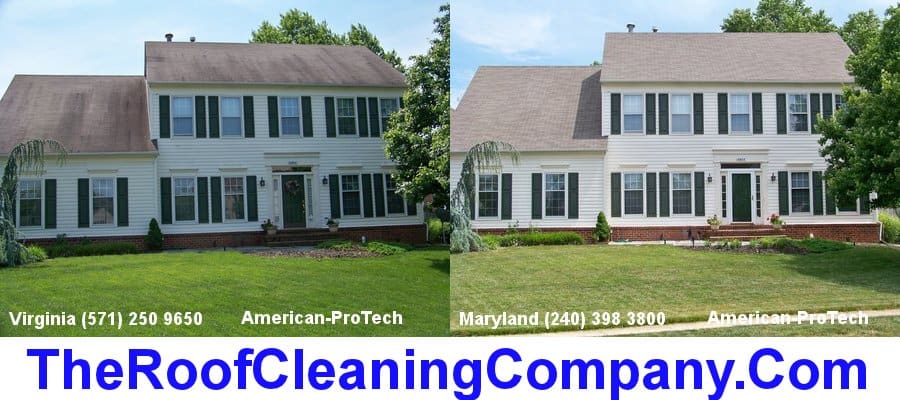 Call 571 250 9650 or click today.  You'll be glad that you did.   

Zip codes serviced for Roof Cleaning Dunn Loring: 22027
Current weather conditions for Roof Cleaning  Dunn Loring VA
[wp_google_weather city="Dunn Loring VA" temperature="f" language="en" forecast="1″]