Roof Cleaning Dale City VA 22193
Roof Cleaning Dale City VA.   Call 571 250 9650 or request a roof cleaning quote online!
Roof stains on your Dale City home or business?  Did those ugly stains and streaks just appear out of no where in the last few years?  They did just that for many homeowners in the Northern Virginia region.  If you're like most homeowners, you might be wondering what exactly causes those roof stains?   Technically it's a form of cyanobacteria although most in the roofing industry including the shingle manufacturers  call it by its more generic name, blue-green algae.
 Not too many years ago, 20 or so, this problem was isolated to the deep south.  The shingles manufacturers began to use a limestone filler in the shingles while this algae propagated north with the wind.   And that limestone filler?  It's the perfect food source for algae in a moist or damp environment, such as the northern side of the roof in the picture on the left below: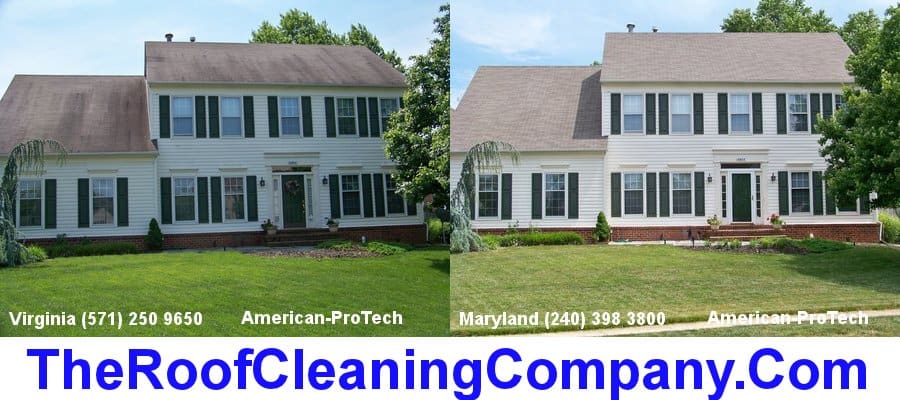 It's estimated that up to 50% of the roofs in the mid-Altantic region are replaced prematurely due to algae induced roof stains.  With roofing material and labor as expensive as it is, replacing a roof that can easily be professionally cleaned is not even remotely cost effective.  At American-ProTech, TheRoofCleaningCompany.Com, roof cleaning is by far our specialty.  Our soft wash technique relies on chemistry and science to rid your home of those embarrassing roof stains, at the same time prolonging the life of the roof itself.
 A replacement roof for a single family home can easily run in the $10,000 range.  Roof cleaning of your Dale City home by the region's leading roof cleaning company only costs hundreds of dollars.   And best of all, your satisfaction is guaranteed.
 Give us a call today, and we'll spend as much time discussing this service with you as you'd like, truly a no obligation consultation.
 Call 571 250 9650, or request a roof cleaning quote online.  You'll be glad that you did!  

Zip codes serviced for Roof Cleaning Dale City:  22193
Current weather conditions for dale City VA:
[wp_google_weather city="Dale City VA" temperature="f" language="en" forecast="1″]