Roof Cleaning Clifton VA 20124
Roof Cleaning Clifton VA, a professional, guaranteed service!  Call 571 250 9650 or request a 

roof cleaning quote online!
Tucked away in the southwest portion of Fairfax County lies the historic and charming town of Clifton Va.    Formally founded in 1863, present day Clifton still has a rural feel while being centrally located to many amenities and major employment opportunities.

Like many communities in the mid-Atlantic region, Clifton has experienced a significant increase in unsightly roof stains and streaks over the last few years.  In addition to severely hampering curb appeal, some biological growth actually causes premature failure of shingles.  Luckily, American-ProTech offers a safe and very cost effective solution to those embarrassing stains, professional roof cleaning.  Have a look below for yourself.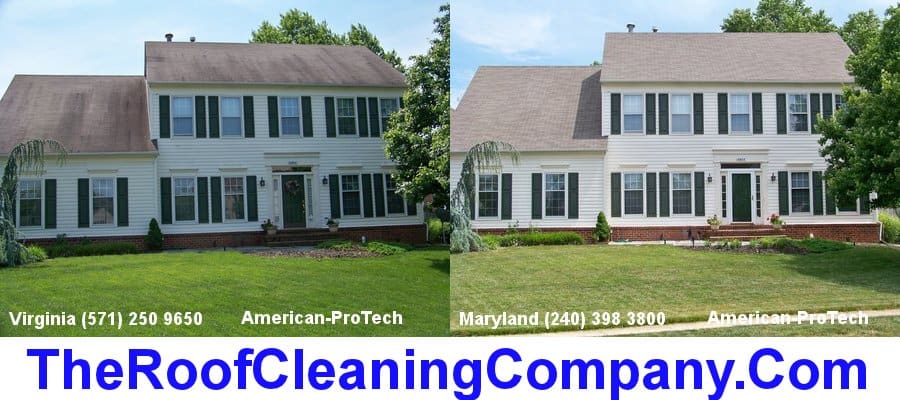 Our shingle manufacturer approved roof cleaning process relies on science and chemistry, as high pressure should never be used on asphalt/fiberglass shingles.  Restore the curb appeal of your biggest investment while prolonging the life of your Clifton roof at the same time. 
When it comes to your home and something as important as your roof,  leave it to the experts.  At American-ProTech, professional no-pressure roof cleaning is our specialty. Consultations and quotes are always free.  Call 571 250 9650 or click for your Clifton  roof cleaning quote today!.

Roof Cleaning Clifton Va zip code served: 20124
Current weather conditions for Roof Cleaning  Clifton VA
[wp_google_weather city="Clifton VA" temperature="f" language="en" forecast="1″]