Roof Cleaning Chantilly Va 20151 20152
Roof Cleaning Chantilly VA.   Call 

571 250 9650

 or request a roof cleaning quote online!
For most of us, our largest investment is our home.  As a result, pride of ownership, or as some would say curb appeal, is very important to most homeowners.  If your Chantilly home's roof has a northern exposure, or perhaps is under a canopy of shade from trees during the warmer months, then perhaps your roof has been invaded by dark streaks and stains over the last few years.  If so, there IS a cost effective solution to rid your roof of those stains without incurring the extreme cost of a roof replacement.  Simply put, it's professional roof cleaning.
Our primary service at American-ProTech is safely ridding homes of those embarrassing roof stains.  We bring a bucket truck to each and every Chantilly roof cleaning and use our shingle manufacturer approved method for dramatic results each and every time.
Take a look at the pictures below, and we're sure that you'll agree; curb appeal has been improved substantially as a result of roof cleaning.  And whereas a replacement roof this home would likely cost $10k or more, roof cleaning costs only hundreds of dollars!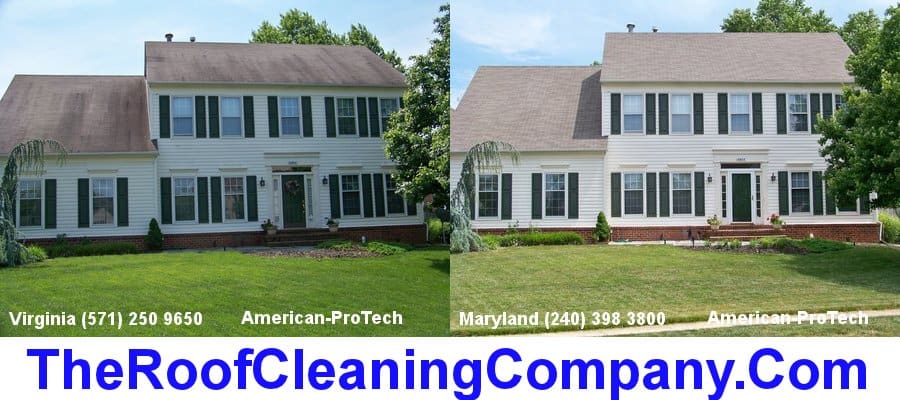 With an investment as important as your Chantilly home, trust it to the professionals at American-ProTech.  We gladly provide no obligation consultations and free roof cleaning quotes.  Perhaps most importantly, we stand by our services like no other!
 Call 571 250 9650 today, and let's discuss restoring the curb appeal of your Chantilly home. 

Zip codes serviced for Roof Cleaning Chantilly VA:  20151 20152
Current weather conditions for Roof Cleaning Chantilly VA:
[wp_google_weather city="Chantilly VA" temperature="f" language="en" forecast="1″]