Roof Cleaning Broadlands VA 20148
Roof Cleaning Broadlands VA, a professional, guaranteed service!  Call 571 250 9650 or request a roof cleaning quote online!
Broadlands VA, is a master planned community located in Loudoun County.  Convenient to numerous amenities, Broadlands is the picture perfect family oriented community.  Yet even Broadlands wasn't able to avoid those algae induced roof streaks and stains that are plaguing the entire region.
Newer construction will evade those unsightly roof stains for a number of years, but after a while, the northern exposures of roofs will begin to be colonized by this cyanobacteria.  Fortunately, there is a cost effective solution to have these embarrassing stains and streaks removed, via professional roof cleaning.   For most roofs, our unique and safe process is carried out from the safety of a 42' hydraulic lift.  By relying on science and chemistry, coupled with some proprietary additives, our no-pressure roof cleaning process yields incredible results each and every time.  We're so confident in our process and capabilities, that if your roof doesn't turn out exactly how we describe it, there will be no charge!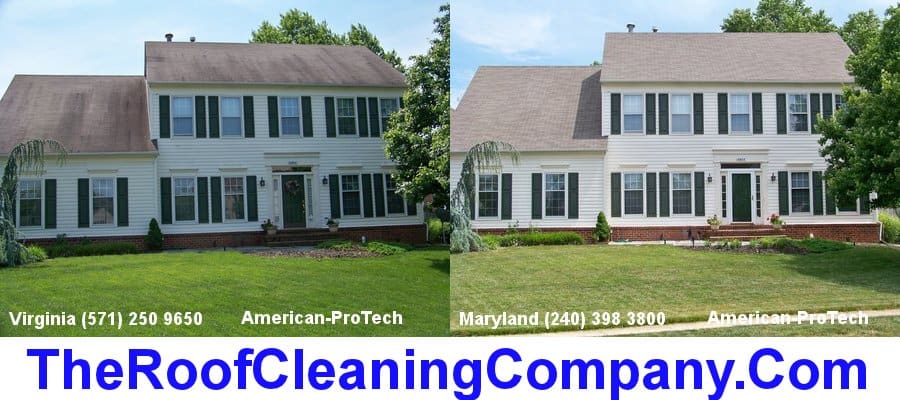 If you're an Angie's List member, you can see our reviews and our A-rating there.  If you're a member of the Broadlands forum, you can read a detailed roof cleaning review by one of our Broadlands clients here.  
We'd love to earn your business and rid your roof of those stains and streaks.  Whereas a replacement roof would run in the thousands and thousands of dollars, our roof cleaning  services only cost hundreds.
Call 517 250 9650 for your no obligation consultation.  Or if you'd prefer, you can reach us online here for your roof cleaning needs.

Zip codes serviced for Roof Cleaning Broadlands:  20148
Current weather conditions for Roof Cleaning Broadlands VA:
[wp_google_weather city="Broadlands VA" temperature="f" language="en" forecast="1″]