Roof Cleaning Bristow VA 20136
Roof Cleaning Bristow VA, a professional, guaranteed service!  Call 571 250 9650!

Having a rich history with affluent neighborhoods yet the feel of the countryside, Bristow VA is a picturesque town.  With local shops and restaurants, fantastic schools, and homes with manicured landscapes and lawns, those unsightly roof stains and streaks look horribly out of place.   Fortunately, there is a professional, proper and affordable solution, roof cleaning by American-ProTech.
Founded in and based out of Gainesville, American-ProTech has restored the curb appeal of numerous homes in Bristow and the surrounding area.  Have a look at the slides above and surely you'll agree; the difference in appearance is nothing short of dramatic.  Best of all, it's extremely affordable.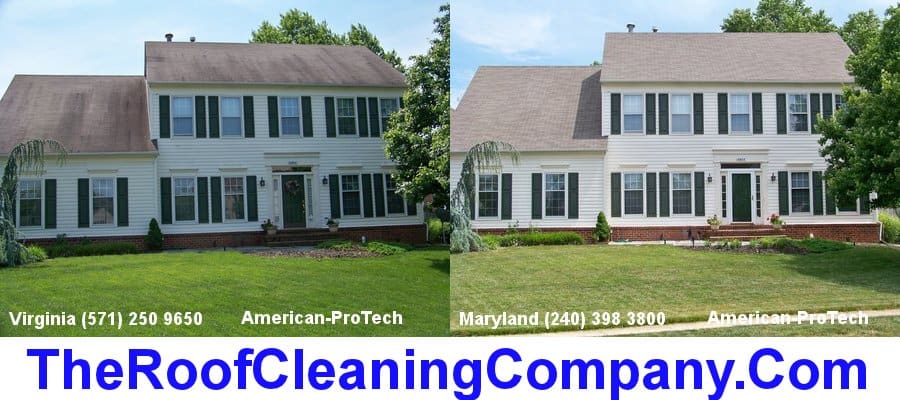 Many roofs in the area are replaced prematurely due to those streaks and stains.  We've even heard of some unscrupulous characters that tell Bristow homeowners that the cause is a black roof mold and that the roof needs to be replaced to resolve it.  That couldn't be further from the truth as the vast majority of shingle discoloration is caused by a simple algae.  We'll have your roof and your home looking incredible again in a matter of hours.  And it won't cost thousands of dollars like a new roof would.  Our fees only run in the hundreds of dollars!
Our roof cleaning consultations are always free, and we never resort to high pressure sales tactics.  We'll present you with facts, some options to consider and you decide from there.  So give us a call at 571 250 9650, or request a consultation or quote via our online roof cleaning request form.

Zip codes serviced for Roof Cleaning Bristow: 20136
Current weather conditions for Roof Cleaning Bristow VA:
[wp_google_weather city="Bristow VA" temperature="f" language="en" forecast="1″]