Ugly Roof Stains

Roof Stains?
By and large, the biggest  source for shingle discoloration in the greater mid-Atlantic region is a form of cyanobacteria, commonly referred to as blue-green algae.  This algae can be found throughout the world yet when it comes to colonizing on roofs,   it most often occurs on the northern exposures and/or heavily shaded asphalt shingles.  Left untreated, it continues to only get worse.
Not too many years ago, algae related roof stains were predominately localized to the deep South.   Changes in shingle composition, along with the propagation of algae via the wind, have driven this nuisance as far north as Canada.    And it's certainly well established here around the nation's capital.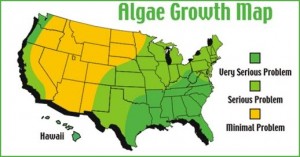 The unsightly stains and streaks caused by this algae are only the beginning.  Once the algae has manifested itself, it's only a matter of time before lichen (a fungus) and even moss begin to take hold on the roof.  In fact, 35% of the roofs that we treat for algae stains in the area also have a lichen infestation!  Due to its subdued color, lichen is often difficult to see from the ground with the naked eye.  Lichen, as well as moss, are both extremely damaging to shingles.  We see the aftermath of this damage on a regular basis, and the leading shingle manufacturers such as GAF-Elk have published findings stating the same.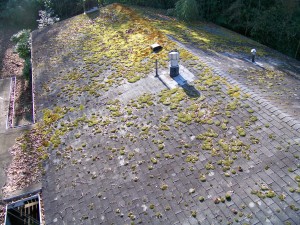 Fortunately, our roof cleaning and restoration process kills lichen and moss while ridding your roof of algae stains.  Not only does your curb appeal get restored, but any additional damaging growth on the effected shingles is stopped instantly.
Don't neglect your roof.  They're very expensive to replace.  American-ProTech's professional roof cleaning process will help prolong the life of your roof, while dramatically improving your property's curb appeal.
Our pressure-free roof cleaning process is 100% guaranteed.  If you're not completely satisfied, it costs you nothing! 
A new roof costs thousands.  Our roof cleaning services?  Hundreds.
Call 571 250 9650 (Va) 240 398 3800 (Md) or click today for a no obligation roof cleaning consultation and a quote.
Professional Staff
Professional Equipment
Professional Results – EVERY time