Roof Cleaning Fairfax
[portfolio_slideshow, exclude=2782,2785]
Roof Cleaning Fairfax, Fairfax County Va.
Welcome to the blog of American-ProTech, TheRoofCleaningCompnay.Com.   Here we'll document a day's events often with pictures.  For those researching or considering roof cleaning for your home or business, feel free to look over our website or better yet, give us a call for a no obligation consultation.  We'll answer and and all questions that you may have as well as provide you with a quote to rid your home of those embarassing streaks and stains.
We were eradicating moss on a roof cleaning project in the heart of Fairfax when a very kind couple paused from their walk to have a look.  We ended up chit chatting a bit.  They had a few questions about our process and then gave us their address from right down the street and asked for a quote as well.
Fast forward about 45 minutes, and we were prepping their home for roof cleaning too.  The man of the house was a retired Navy veteran, and being a vet myself, well lets just say we look after one another  😉   Have a a look at the before and after pictures of their home below: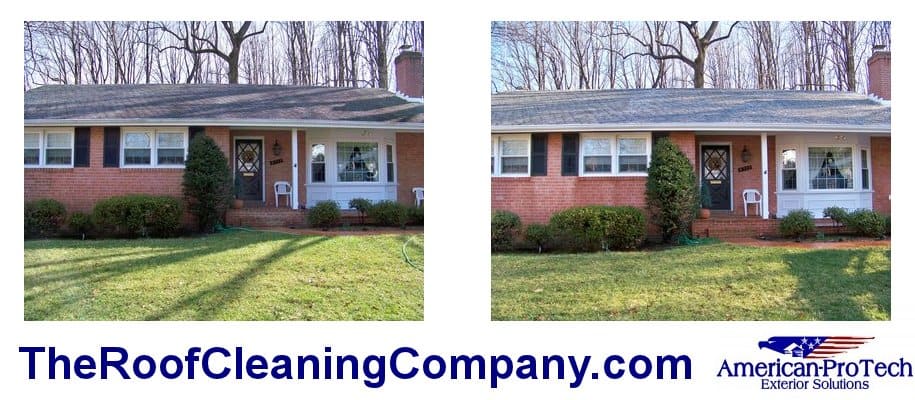 It's still wet in the after photo, yet the results are quite dramatic – they always are. And aside from removing those unsightly roof stains caused by a form of algae, we also eradicated a rather substantial moss AND lichen colony growing on the right side of his roof.    The latter two biological organisms are quite damaging to shingles, so the homeowner got two very important things accomplished for one reasonable cost:  the curb appeal of this home was improved instantly by eliminating those ugly stains and streaks, and the damage being caused by the lichen and moss was stopped instantly.  The latter will literally  add years of life to that roof.
If your Fairfax home is need of a professional roof cleaning, give us a call.  There's never any sales pressure.  We'll simply answer any and all of your questions and present you with facts.  And then if you hire us, we'll make your roof and your home look great again!
Thanks for visiting our blog.  We hope to hear from you.  Call 571 250 9650 or complete a roof cleaning quote request form.

Satisfaction guaranteed or it's on us! Call (571) 250-9650 for Roof Cleaning in Fairfax.
Tags: Roof Cleaning Fairfax, Roof Stains